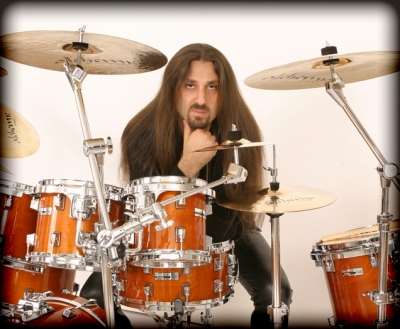 Available NOW: The first of a revolutionary new series of instructional books by Gaetano Nicolosi: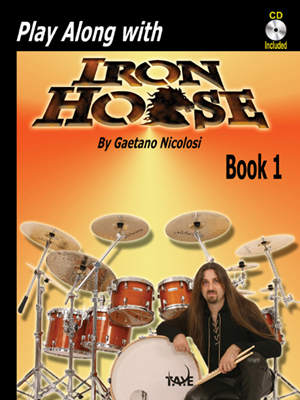 INCLUDES AUDIO CD WITH 2 VERSIONS OF EACH SONG: WITH AND WITHOUT DRUMS

This new book is a collection of 6 songs you can play along with Gaetano's band IronHorse: "American Thunder", "Hearts Of Steel", "The Best Move", "Desert Rain", "Half Past Goodbye", and "Under The Gun". It contains the original drum transcriptions, plus 3 more versions of charts to facilitate the learning process very gradually, starting from a very easy-reading drum chart, to the original drum chart. To order now, click on the cover.
"My students really enjoy playing along with Iron Horse! Gaetano has done it again to find a way of making drumming fun and learning at the same time! The songs are fun and the charts are very easy to follow. The levels of the charts will help you follow the music at any ability you have. At the end of this book, your song reading will improve greatly! Enjoy!"
Dom Famularo - Drumming Global Ambassador

ALSO AVAILABLE:
Ideal for drummers and any musician that wants to learn the basics of reading rhythms. Each book comes with TWO audio CD's. Available HERE & NOW - Just click on either book cover for details & to order.
ORDER BOTH BOOKS AND GET FREE SHIPPING!!!

Also available now: 'BRING IT ON' - the latest CD from IronHorse
click on the CD cover to order
2Checkout.com, Inc. is an authorized retailer of Gaetano Nicolosi products