Available NOW: The first of a revolutionary new series of instructional books by Gaetano Nicolosi: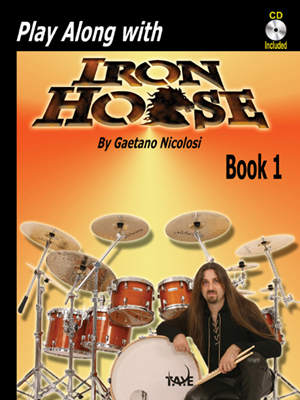 INCLUDES AUDIO CD WITH 2 VERSIONS OF EACH SONG: WITH AND WITHOUT DRUMS

This new book is a collection of 6 songs you can play along with Gaetano's band IronHorse: "American Thunder", "Hearts Of Steel", "The Best Move", "Desert Rain", "Half Past Goodbye", and "Under The Gun". It contains the original drum transcriptions, plus 3 more versions of charts to facilitate the learning process very gradually, starting from a very easy-reading drum chart, to the original drum chart. To order now, click on the cover.
"My students really enjoy playing along with Iron Horse! Gaetano has done it again to find a way of making drumming fun and learning at the same time! The songs are fun and the charts are very easy to follow. The levels of the charts will help you follow the music at any ability you have. At the end of this book, your song reading will improve greatly! Enjoy!"
Dom Famularo - Drumming Global Ambassador

ALSO AVAILABLE:
Ideal for drummers and any musician that wants to learn the basics of reading rhythms. Available HERE & NOW - Just click on either book cover to order. ORDER BOTH BOOKS AND GET FREE SHIPPING!!!
Book 1 is a great tool to learn how to read rhythms, step by step, from the beginning to the medium level. The material contained in this book includes: Basic Music Theory, Whole Notes, Half Notes, Quarter Notes, Eighth Notes, Sixteenth Notes, Eighth Note Triplets, Tie, Dot and Double Dot, with preparatory exercises and combination studies. It includes 2 CD's containing the audio tracks of every exercise. It is a fun way to practice and become a better reader.
Book 2 is the continuation of "Reading Rhythms In Simple Time Signatures" Book 1. It contains new material and more advanced reading exercises. The material contained in this book includes: Syncopation, Sixteenth Note Triplets, Thirty-Second Notes, Quarter Note Triplets, Cut Time, and Advanced Combination Studies. Like Book 1, it has 2 CD's included containing the audio tracks of every exercise.

"Gaetano has assembled a great tool for learning to read and understand rhythm. They then progress in a uniform, well-organized way, developing advanced rhythmic skills. Congratulations on this fresh approach."
Vic Firth
"I am so impressed with the dedication and talent Gaetano Shows. His two books "Reading Rhythms" 1 & 2 are excellent! They are guides to understand reading and break down the fear. Clear and easy to learn…and the CD's are an excellent help! Learn to enjoy reading and see how your options of expression will open!"
Dom Famularo - Drumming Global Ambassador
"A lot of time was spent on these books! There are plenty of rhythms and rhythmic combinations for anyone to work on. An Excellent book for teaching any level drummer to become a better reader. It is a fantastic addition to my teaching repertoire."
Johnny Rabb (Educator/Author/Clinician)
2Checkout.com, Inc. is an authorized retailer of Gaetano Nicolosi products