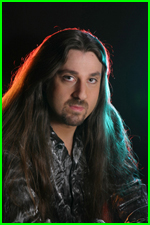 Gaetano Nicolosi is Italy's hottest newest export. As a drummer, performer, recording artist, author, and instructor, this native of Ramacca, Sicily, has quickly ascended to the top level of his craft.
His musical career began at the early age of 7. Throughout his teenage years, his passion for music, and more specifically drums, found him continuously playing in both marching bands and rock groups.
In 1993, Gaetano earned his first diploma in Catania at the Music Institute, "M. Clementi". The following year he served his country's military where he played in the military marching band of the Brigata Meccanizzata "Aosta". After that year of military service, Gaetano made the decision to continue his music studies in Milan at the prestigious Accademia Musica Moderna with the famous Franco Rossi as his teacher. During his studies at AMM, Gaetano had the opportunity to learn from some of his favorite musicians and teachers such as Dom Famularo, Gregg Bissonette, Gary Chaffee, David Garibaldi and more. He earned his second degree at the Accademia Musica Moderna in 1997.
Gaetano has performed on or been featured on many Italian TV programs such as RAI2, TMC (Tele Monte Carlo), Teletna, and Tele D. He has been also profiled in many of his country's newspapers: La Sicilia (Italy's version of the USA Today), Il Resto Del Carlino, and Corrierre Adriatico. He has even written musical transcription for the Italian drum magazine called Drum Club.
As a music instructor, Gaetano taught at the Accademia Musica Moderna in Modica, Sicily, and the Accademia Amor Vitae in Catania. He was also a private music instructor in Ramacca, Sicily, at the Centro Polifunzionale.
He spent six months in 1999-2000 performing in Sicily with veteran vocalist Ron Keel (KEEL, Steeler, etc.), playing for the men and women of the United States Armed Forces as well as Italian audiences, which led to the formation of their band IronHorse.
IronHorse
Since arriving in America in 2000, Gaetano has performed over 600 shows nationwide with IronHorse, headlining and opening for acts like ZZ Top, 38 Special, The Doobie Brothers, RATT, The Outlaws, Skid Row, and The Kentucky Headhunters. His powerful yet intricate drumming technique has been the foundation of the band's music, as demonstrated on "BRING IT ON", their most recent release on Compendia/VTone Records. IronHorse also released their debut self-titled CD in 2001, in addition to appearing on other CD releases such as "The Tour Bus: Road Trip" from Impulse Music and "Warmth In The Wilderness: A Tribute To Jason Becker" released by Lion Music.
His talents have earned Gaetano high praise in the industry, and endorsements from some of the top manufacturers of musical equipment: Istanbul Agop & Alchemy Cymbals, Vic Firth Drumsticks and accessories, Attack Drumheads, and Ultimate Support stage stands and accessories.
Gaetano performs a Drum Clinic at Crossroads Music in Delaware, Ohio
In addition to recording and performing, Gaetano not only finds time to perform drum clinics across the nation and private instruction to select students, but he has published his two new series of instructional books: Reading Rhythms In Simple Time Signatures (Books 1 & 2), and Play Along With IronHorse (Book 1) - For more about these click on the cover:
With all of the performances, recordings, credits, experiences, endorsements, and instructional activities, it is clear that Gaetano Nicolosi is just getting started in what promises to be a long and successful career in music. New developments will be announced here on this web site as the Italian Stallion continues to add to his already impressive accomplishments.